Europe approves Holoclar®, the first stem cell-based medicinal product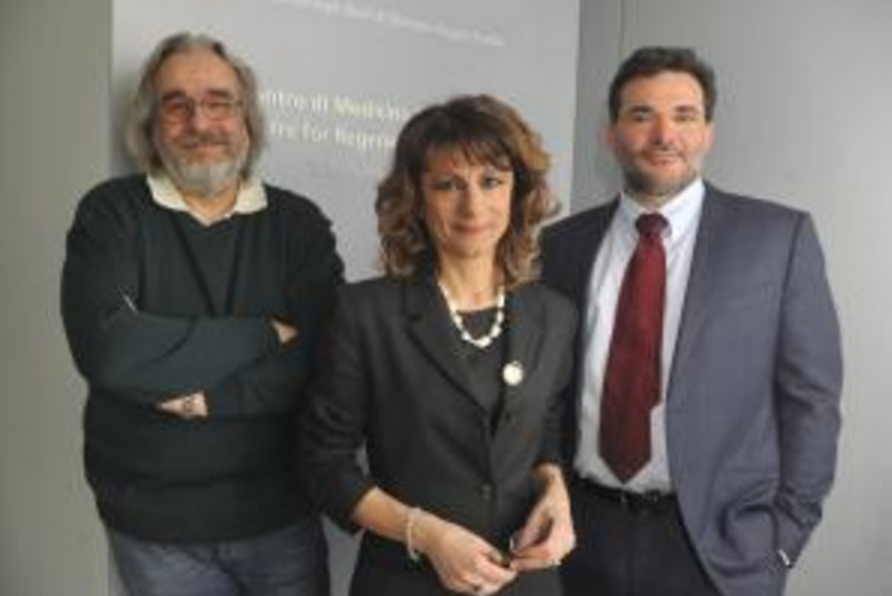 The European Commission has given Holoclar®, the first advanced therapy medicinal product (ATMP) containing stem cells, conditional marketing authorisation following a recommendation for approval by the European Medicines Agency.
Holoclar® uses a particular type of eye stem cell, called a limbal stem cell, to repair the cornea after injury; restoring sight.  The work is a collaboration between an excellent public research center and a solid private pharmaceutical company.  It has achieved an extraordinary result, entirely "Made in Italy"; the first stem cell-based medicinal product approved in the Western world.
This therapy has been brought to the clinic by an Italian team led by Professor Michele De Luca and Professor Graziella Pellegrini, both from the Centre for Regenerative Medicine (CMR, a donation of the bank Foundation Cassa di Risparmio di Modena) at the University of Modena and Reggio Emilia and Andrea Chiesi, Director of R&D Portfolio Management of Chiesi Farmaceutici S.p.A. and CEO of Holostem Terapie Avanzate, an University spin-off located in the CMR.
Using limbal stem cells to repair damaged cornea
The Holoclar® system uses stem cells to repair moderate to severe limbal stem cell deficiency.  Limbal stem cells are located in a part of the eye called the limbus, which is found at the border between the sclera (white part of the eye) and the cornea (clear front part of the eye).  The function of these limbal stem cells is to heal damage to the outer layer of the cornea.  However injury, such as physical or chemical burns to the eyes can damage these cells, causing the cornea to deteriorate.  This condition, known as limbal stem cell deficiency, can cause blindness, though other symptoms include: pain, sensitivity to light and inflammation.
The therapy works by taking a tiny portion (min 1-2mm2) of the undamaged limbus (where the limbal stem cells reside) and growing it in a laboratory using cell culture techniques.  This produces a sheet of cornea that can then be transplanted back onto the eye.  This technique is sufficient to restore sight in the absence of deep corneal stroma damage. Further, the combination of Holoclar® and corneal transplants can restore a normal cornea for, previously incurable, deep corneal burns. And, as only a small area of the patient's eye is biopsied for this procedure, it does not involve surgery.  As such, there is a reduced risk of damage to the rest of the healthy eye. Holoclar® thus gives a therapeutic chance to severe limbal stem cell deficiency that involves both eyes.
Professor Graziella Pellegrini, Coordinator of cell therapy at Centre for Regenerative Medicine, Modena, as well as director of R&D and co-founder of Holostem,explains further why Holoclar® is different to other treatments:
"This graft of epithelium – Holoclar®, looks like a kind of contact lens. It is transplanted into the patient and provides a long-term transparent cornea and full recovery of visual acuity, without causing any rejection reaction, because it consists of cells of the patient him/herself".
This therapy, thanks to the registration by the European Commission, will soon be available to all European patients.  It will be used to treat those who have suffered workplace injuries (caused, for example, by burnt lime, solvents or acids), domestic accidents (for example eye burns caused in adults and children by detergents or abrasive agents) or, as unfortunately reported by the press in the past few months, in cases of assault with chemical agents.
The therapy is based on over 20 years of basic, preclinical and clinical research
Underlying this therapy is more than twenty years of excellence in research, conducted by a team [img_assist|nid=32232|title=|desc=|link=node|align=left|width=198|height=300]of internationally renowned scientists in the field of epithelial stem cell biology, aimed at clinical translation.  European legislation states that stem cell cultures destined to be used in humans must be manufactured in GMP (Good Manufacturing Practice)-certified facilities.  It was due to the investments of Chiesi Farmaceutici, that the Centre for Regenerative Medicine in Modena – where Holostem operates – was certified as GMP compliant.
Andrea Chiesi, Director of R&D Portfolio Management of Chiesi Farmaceutici S.p.A. and CEO of Holostem Terapie Avanzate gives his opinion on the approval of this therapy,
"This result shows that the partnership between the public and private sectors is not only possible, but is probably the best strategy for the development of stem cell-based regenerative medicine, particularly when autologous cells are used.  Holostem is now considered as a business model to translate into clinics the results obtained by scientific research in this field".
Professor Michele De Luca, Scientific Director and co-founder of Holostem, as well as Director of the Centre for Regenerative Medicine, University of Modena adds:
"The authorization process has been long and complex, but the result achieved today shows that cells can be cultured according to pharmaceutical standards appropriate to guarantee safety and efficacy. In addition, in a period of great confusion about the real therapeutic possibilities of stem cells, such as the one we are living in, being able to demonstrate that stem cells can be definitely safe and successful in a controlled clinical setting is more important than ever".
More information